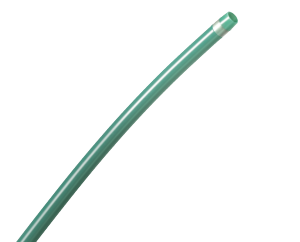 PG Pro™ Peripheral Microcatheter
PG Pro™ Peripheral Microcatheter is designed to access small, tortuous vasculature in order to deliver therapeutic agents.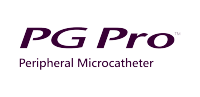 TIGHT TUNGSTEN COIL STRUCTURE
Spiral reinforcement for excellent kink resistance, enhanced radiopacity, and proximal pushability while maintaining distal flexibility1
AVAILABLE IN RADIAL LENGTHS
Supports distal embolization procedures with lengths up to 165cm
DESIGNED FOR USE WITH THE AZUR™ VASCULAR PLUG¹⁻²
Enables precise placement and repositioning
Learn more about the AZUR™ Vascular Plug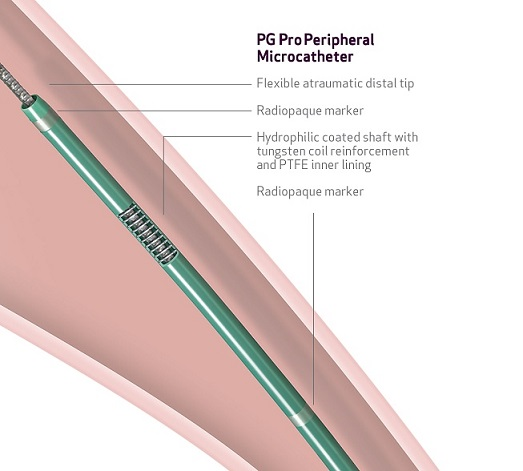 PG Pro™ Peripheral Microcatheter
PRODUCT CODE
LENGTH
CATHETER OD Distal/Proximal
(Fr/mm)
INNER DIAMETER
MAX GUIDEWIRE
EMBOLIC COMPATIBILITY
MAX PRESSURE
PGP28140STR
140 cm
2.8 / 2.8 Fr / 0.92/0.94 mm
0.027"/ 0.69 mm
<0.021" / 0.53 mm
All sizes of AZUR™ Vascular Plug, 0.018" coils, up to 800um microspheres, and chemical agents
1,200 psi
PGP28165STR
165 cm
RX ONLY. Refer to the product labels and package insert for complete warnings, precautions, potential complications, and instructions for use.
1. Data on file
2. PG Pro Peripheral Microcatheter IFU 100063 Rev. C Revised 2020-09